by Lisa
---
The Forgotten Garden by Kate Morton
---
| | |
| --- | --- |
| | A 4 year old arrives alone on a dock in Australia with only a few belongings in a small white suitcase.  When the man who found and cared for her dies, an older Nell is given the suitcase.  Within it is a book of fairy tales written by the woman who put her on the boat.  Join Nell, and then her granddaughter Cassandra, on a journey to England and a cottage on a cliff to unravel the mystery of her past. |
---
Book Club Party Ideas for The Forgotten Garden
Music selections could include British Music, Music from Cornwall, and Songs from Cornwall
Eliza and her brother liked to act out Jack the Ripper.  There have been many songs about this notorious serial killer.
What to Wear
The initial plan was to have a garden party before storms blew in just before everyone arrived.   So flower dresses
, floral shirts
and garden hats
were worn by some of us.  But I was not prepared for the fairies
that walked in the door…they looked awesome!
In the comments section below, see Jo's idea of sending her a guests a brooch
to be worn to her book club party for The Forgotten Garden.  Great ideas!!
Decorations
Jo also submitted some very creative decorating ideas, including a white suitcase with a book of fairy tales.
For our book club party for The Forgotten Garden,  vignettes of the fairy tales were sprinkled throughout the garden and the guests had to try to figure out which of Eliza's fairy tales it represented.
For The Crone's Eyes (page 95) I decorated with a fairy princess
, a fawn and two eye bouncy balls in a jar as well as a figurine of a well (I love Goodwill!).
Decorations for The Changeling (page 285) included a bird cage from Annie that I painted with gold metallic paint, a bird and gold pieces.
For The Golden Egg fairy tale I found a Christmas ornament with a golden egg from Garden Ridge (I think this is primarily a local store.  You can probably find a similar one wherever Christmas decorations or sold).   I was roaming through Ross when I found the statue in the picture.  I was way across the store when I could just make out an angel and a little girl.  I squinted my eyes…what are they holding…a book?  A book of fairy tales?  I ran over there as fast as I could afraid someone grab this treasure before I could get to it.
I also decorated the garden with fairies and a little boy angel (page 521) that I found at Goodwill. (By the way, whenever I am planning a book club party I always start at Goodwill or Salvation Army…it is amazing the treasures you can find on the shelves there.  Dollar Tree is always my next stop).
A flower arrangement for a table setting could include Rose's welcome home gift when she arrived from New York (page 368).   Eliza selected plants that were a symbol of their bond – Ivy for friendship, pink rose for happiness, oak leaf geranium for memories.    She tied the bouquet with a pink satin ribbon torn from her hem.
This gift basket with tea, scones and clotted cream would be a great door prize.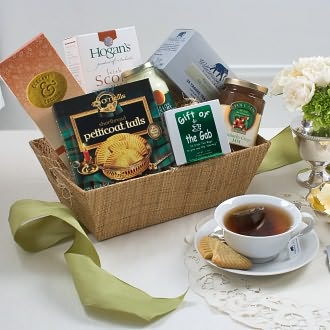 ---
Book Club Menu
Every book should mention Prosecco (page 171) so we can serve it at every book club party!   Some bottles of Prosecco were placed in a plantar full of ice and some were used to make a Golden Apple Sangria.
A big pot was filled with basketballs and volleyballs then topped off with ice to keep the water bottles cool.
I did not want to have to make teapots of tea (and most of us don't drink hot tea…iced tea loaded with sugar is the drink of choice in Texas) so I set up my Breville Coffee Brewer so people could make their own tea.  I arranged Earl Grey K-cups and English Breakfast tea bags in the shape of a flower (you put the tea bag in the cup and just run hot water through the Breville).
If you prefer a more traditional teapot, this is one that will surely become a heirloom.
Golden apples in an urn (something I found in the bulk trash at my neighbor's house…don't tell my husband) represent the apple tree in the forgotten garden.  Nuts, seeds and fruit plates made to look like flowers provided snacks as well as decoration.   The table was also decorated with candy roses made from melting wafers and a rose candy mold
.
Shortly after setting up the table above the wind kicked up, the sky darkened and then the clouds let loose.  So much for a garden party!
That's okay,  Golden Apple Sangria was waiting for us in the refrigerator inside.  This is made with Prosecco, a little brandy and loads of fruit.  The ice cubes in the sangria were made with apple cider and flower and leaf silicone baking molds.
The food eaten in The Forgotten Garden consisted mainly of stew and broth.  It is way too hot in Texas in September to have a hot soup, so I made a cold soup instead.  I also challenged myself to make food shaped like flowers.
---
Book Club Resources
Ratings at the time this post was published
Goodreads:  4.06 stars (12,809 reviews)
Amazon:  4.5 stars (438 reviews)
Barnes & Noble:  4.5 stars (1053 reviews)
My Rating:  5 stars
Reviews
"Morton whisks the reader into scene after vivid scene, sometimes frightening us, often perplexing us, and always providing us with a great deal of entertainment."—Star Telegram (Fort Worth, TX)
"Often, when a book jumps narrators, the reader is invested in some stories more than others.  In this case, I was equally enthralled by every plotline.  I devoured this book, savoring each word that Morton gave me.  I can't describe how much I enjoyed the process of reading The Forgotten Garden." – S. Krishna's Books
"What I loved about this atmospheric, fairytale-like novel was that Morton tells the story of these different, but connected, women, but she doesn't give everything up right away. I tried to guess at the mystery many times, but ultimately my guesses were never correct. The characters are well developed, and although it takes a little while to get into the story, this is an excellent novel, filled with old houses and hidden gardens with secrets and surprises." – A Girl Walks Into a Bookstore
Purchase The Forgotten Garden
Purchase from an Independent Bookseller
Barnes and Noble
About Kate Morton

Copyright © 2015 ButteryBooks.com All Rights Reserved.


Looking for Related Information on this Buttery Books Post?
Try Google Search

Custom Search




Book Club Party Ideas This post is filed under : 2000-2009, mystery and suspense, top pick